I'm a n00b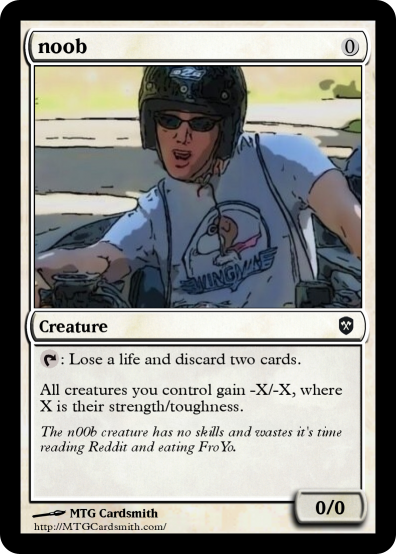 This post is a status update, which is how I track progress specific to my game. Check out my timeline to see what I've recently accomplished.
Key Events
Competition started!
<a href="http://battleofbrothers.com/sirchris/3-game-design-books-for-80">Bought 3 Books for $80.80</a>
All journeys have beginnings and today is where my journey starts. While I might not be as useless as the n00b MTG card above, I do lack most of the skills required to build a video game. Advancing from beginner to competent game developer will be a difficult task, but I'm hoping that's where this quest leads.
The status update section of my blog is where I talk about anything and everything directly related to the development of my game. I will routinely document game updates, screenshots, budgets, programming problems, art direction, marketing and anything else that comes to mind. This comprehensive documentation will hopefully provide insight into the life of a beginner game developer and help future indies get started with their game development dreams.
I haven't started developing my game yet and don't have anything to share, so I'm going to talk about my goals for the next couple of weeks. While I don't have much game programming knowledge, I do have 10 years of web programming experience and I did once make a Tic-Tac-Toe game in C++.
I think my programming background enables me to quickly understand basics of a new programing language and game development framework , so I plan on experimenting with 3 frameworks over the next couple of weeks. For a number of different reasons, which I'll document in a later blog post, I will be testing out Sprite Kit, Corona SDK, and Unity.
I'd love any feedback that you might have about frameworks, languages, or anything about beginner game development in general so please leave a comment or contact me personally.