Barbarian Smash!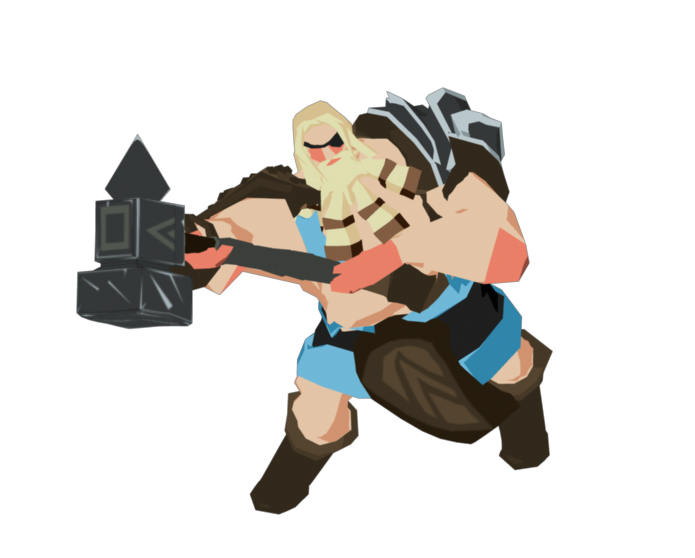 This post is a status update, which is how I track progress specific to my game. Check out my timeline to see what I've recently accomplished.
Key Events
Barbarian Attack Animation
World Map Animations
Teleporter Animation
I feel like I made some really solid progress for the first time in a while, and I have some exciting stuff to share. A ton of little things were done, but the big accomplishments are the implementation of some awesome attack animations, battlefield animations, and world map animations. I also received some great new artwork and I gave my marketing efforts some much-needed love.
You can view all of this week's updates with added commentary on YouTube or continue reading for a quick breakdown of each section.
The coolest visual update I have to share are a few of the Barbarian character's basic attack sequences, which are the first attack sequences I've tested in-game.
In addition to the three attack animations, you can also see that I added the mage character's hit and die animations, which happen after he takes a war hammer in the gut one too many times. There are still some minor kinks to work out with all of the animations, but I'm very happy with how they're turning out. I actually just received some other great looking attack sequences, which couldn't make it into this week's update, but should be in the game next time.
World Map Animations
I want the world map to have some life, so I added a few small animations (with a lot of help from my illustrator).
https://www.youtube.com/watch?v=eAweugzFvVk
The updates you can see in this video are:
A Waterfall
Birds Flying
Lights Flickering
Cube Pulsing
Clouds Drifting
Whale Splashing
Water Currents
Some of the animations need a little more work and I'll probably add a few more things like rocks floating, volcano smoke, and more waterfalls. I'm happy with the initial results, and I think the movement makes the world feel more alive.
The other feature I started working on is the character path, which is the route that the game's heroes take on their quest to rid the world of evil. I wanted something unique to my game's art and not just yellow dots or footsteps and this is what we came up with.
I used image masking and some brush strokes to come up with this animation, and while I'm not super happy with the animation results just yet, I'm confident it will work with a little more love.
Battlefield Animations
Like the world map, the battlefields sometimes feel a little bit stale without any movement. I won't be able to add animations to all of the battlefields due to budget constraints, but I was able to implement this pretty sweet teleporter.
https://www.youtube.com/watch?v=vvcor93A3jU
Lots of Art
The illustrator just delivered the last character concepts and battlefield maps, so I have those assets completely finished. The animator also delivered two complete character animation sequences in addition to the animations I demo'd previously. I'm receiving artwork much faster than I can implement it into the game, and that's a problem I don't mind having.
Marketing Efforts
I've been slacking my marketing efforts so I took a day or two to get things rolling in that department again. I have about 4 or 5 blog posts written and in the queue, made more of an effort to tweet game updates, and jazzed up my YouTube page. It's really hard for me to switch gears from development to marketing, especially when there is still so much development ahead, but I have to try to remember to give a little more attention to the business side of things.
Next Up
In addition to the barbarian attack animations, I just received two complete character animations for the Knight and Evil Knight characters. I'm chomping at the bit to get into the game, so they'll probably be the next project I tackle. I also have to spend some time thinking about how the story and cut scenes will come together because that's the next step for the illustrator, now that he's done with all of the character and battlefield illustrations. All in all things are really starting to get rolling and I should have some pretty awesome stuff to demo next time around.